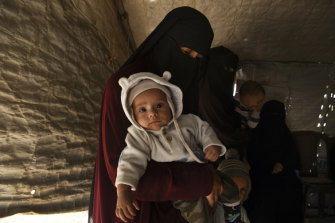 The Age and The Sydney Morning Herald's Michael Bachelard and Kate Geraghty are in Syria, where Australians have been left stranded in the al-Hawl camp.
Australia Street is a few tents for the former families of Islamic State perched on a dusty hillock at the far outer edge of al-Hawl refugee camp.
They spoke with a group of skinny, scared women from Sydney and Melbourne living in tents with their children. They are frightened. If al-Hawl camp was bad before, Syria's descent into yet another war – this time between Kurdish militias and Turkey – has made it significantly worse.